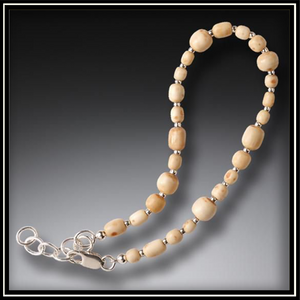 Ancient Runes Bracelet
Length Adjustable 7 3/4" to 9"
Our ancient ivory bead bracelet in fossilized walrus tusk and/or mammoth ivory lends a touch of earthy elegance and hand-carved artistry to your look.
Hand-carved fossilized walrus ivory and/or mammoth ivory beads
Sterling silver spacers and findings
Designer: Jenny Byrne
Color Variation
Colors will vary as each beautiful piece of ancient ivory is uniquely tinted by earthen minerals.
Fossilized Walrus Tusk Ivory Bead Bracelet - Ivory Beads
Our Ancient Runes fossilized ivory bead bracelet perfectly encapsulates the organic feel behind all Zealandia jewelry designs. This is an everyday piece that is far from the ordinary with its use of ancient materials and fine attention to detail.
Loosely designed around the concept of ancient runes, the graphic alphabet used before the Latin alphabet came into use, this bracelet was imagined as a keeper of secrets and meaning. Runes were more than alphabetic letters to those who wrote them. Each rune held a specific power, meaning, and significance—much more than simply an abstract symbol.
The hand-carved fossilized walrus ivory beads in this bracelet, though not embellished, seem as if they might be inscrutably inscribed. The organic mix of various shapes ensures each bracelet is unique in structure, yet forming a cohesive whole. Fossilized walrus ivory is some 500 to 3,000 years old and has lain in the earth for centuries, accreting a soft caramel to deep cocoa hue. Its relative scarcity and natural beauty make it a highly prized material in handcrafted jewelry and works of art.
At an adjustable 7 ' to 9 inches, this fossilized ivory bead bracelet will fit most adult women's wrist sizes.
---
We Also Recommend