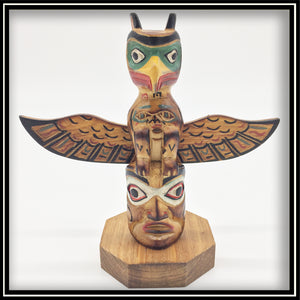 Totem Pole - Eagle's Human Legacy 6"
Alaska Black Diamond uses yellow cedar in from the rainforests surrounding Ketchikan, Alaska to create these beautiful, hand-carved totem poles. This totem is authentic; a great symbol of Alaska Northwest Coast native tradition.
Due to the nature of handmade crafts, there may be a slight wood-color variance from the totem pictured.
Each totem is signed by the artist and includes a story card to share the legends represented in each pole.
Eagles Human Legacy
"I hear him. Grandfather. His call is echoing off the hills. It sounds so important. He beckons you, my son. to look into the future, as he has done. For it is Eagle who has the most powerful vision. It is he who represents prestige and power. Eagle has always protected this village from harm. You are of the Eagle clan, my son. Follow in Eagle's direction. Become strong like his wings, powerful as his call. Eagle will always guide you. Grandfather, you know Eagle well. Yes, my son, for I am he."
---
We Also Recommend