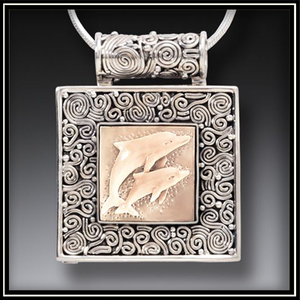 Mammoth Ivory Tusk Dolphin Play Locket
Width 1 1/4"" x Height 1 1/2"" x Depth 1/8"" (approx)
This precious locket from our silver dolphin jewelry collection features a hand-carved ancient ivory dolphin center and a playful surf-inspired sterling silver setting. It is the perfect depth at 4mm for a treasured photograph or keepsake.
Ancient mammoth ivory dolphins
Intricate sterling silver side-hinged locket setting
Designer: Jenny Byrne
Color Variation
Colors will vary as each beautiful piece of ancient ivory is uniquely tinted by earthen minerals.
Silver Dolphin Jewelry—Fossilized Mammoth Ivory Dolphin Locket
The dolphin may just be the most beloved of all sea dwellers. This gentle mammal has long symbolized harmony, playful joy, intelligence, and sensitivity. The dolphin is in tune with its animal instincts and also with higher intelligence, making him a quick learner with keen intuition. His playful nature reminds us of the importance of joy in our lives, and his smiling face is sure to bring a smile to your face as well.
We selected two of these iconic symbols of the sea for our dolphin locket because good things are even better in pairs! Our two dolphins leap and play in hand-carved fossilized ivory surrounded by swirling sterling silver wave patterns. The locket front opens up from the left side to reveal an inside compartment that is about 5 mm deep, an ideal size for a keepsake or treasured photo.
Our artisans have carved these dolphins from fossilized mammoth ivory, an ancient material that dates back over 15,000 years when the last of the mammoths were alive. Fossilized mammoth ivory has lain in permafrost or the earth for many centuries, accreting its luminous cream to caramel or cocoa hue. To touch a piece of this ancient treasure is to step back to ancient times when these gorgeous animals roamed the earth.
Mammoth ivory is prized the world over for the uniquely earthy contribution it makes to fine jewelry pieces such as this locket from our silver dolphin jewelry collection.