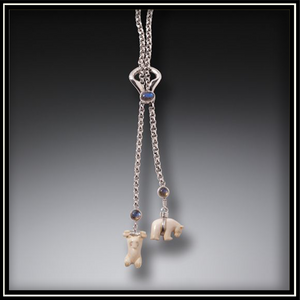 Mammoth Ivory and Labradorite Little Polar Bears Necklack
Chain opening 18 1/2"" x Dangles 3"" & 3 1/2"" (approx)
Price includes chain Our lariat style fossilized ivory polar bear necklace in silver is the perfect Bohemian accessory for any lover of these gorgeous creatures—also featuring labradorite that shines like the Northern Lights.
Hand-carved ancient mammoth ivory polar bear and Zuni bear dangles
Three iridescent labradorite accents
Sterling silver setting and chain
Necklace slips over your head, center ring is fixed
Designer: JB Armstrong
Color Variation
Colors will vary as each beautiful piece of ancient ivory is uniquely tinted by earthen minerals.
Lariat Style Fossilized Mammoth Ivory Polar Bear Necklace in Silver
This mammoth ivory polar bear necklace in silver and labradorite marries distinctive design with natural inspiration, creating a piece that is quintessential Zealandia. The dangles feature our hand-carved Zuni bear and hanging bear charms wrapped in sterling silver treatments. The symbolic significance of the bear—courageous, powerful, protective, and strong in spirit—inspires this lariat style necklace that wears beautifully with virtually any neckline.
The bear charms are carved from fossilized mammoth ivory, a prized and ancient material that is some 15,000 years old. Mammoth ivory, from the great mammoths now long ago extinct, has lain in permafrost or the earth for most of its life. There, it is colored a range of pale to rich cream and caramel colors, lending each piece of fossilized mammoth ivory a unique earthen quality.
The dangles on this mammoth ivory necklace also feature iridescent labradorite, a beloved stone that shines with icy cobalt, green, and mauve tones. It is believed to be a magical stone that offers protection and spiritual inspiration for the wearer. The combination of labradorite, sterling silver, and creamy mammoth ivory gives this polar bear necklace a truly Northern look.
The center sterling silver ring is fixed on this necklace, which is worn by slipping the looped portion over your head.