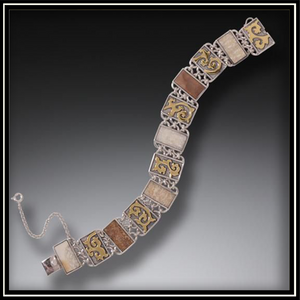 Gilded Path Walrus Ivory Bracelet
Width 5/8" x Length 7 1/2" (approx)
This carved ivory bracelet highlights Zealandia's signature fossilized ivory in variegated tones beside a sterling silver and 14kt gold fill mixed metal treatment, creating a visually stunning piece.
Hand-carved fossilized walrus ivory
14kt gold fill details
Sterling silver setting
Secure sterling silver tab insert box clasp and safety chain
Designer: Jenny Byrne
Color Variation
Colors will vary as each beautiful piece of ancient ivory is uniquely tinted by earthen minerals.
Fossilized Walrus Ivory Bracelet
Our Gilded Path fossilized walrus ivory bracelet is influenced by natural materials and natural imagery—a gorgeous combination! The fossilized ivory links are placed next to links that highlight a rich mixture of 14kt gold and sterling silver. This gives the bracelet an especially earthen quality and a touch of luxury that wears beautifully with your favorite looks.

The fossilized walrus ivory is some 500 to 3,000 years old, and it has lain in the earth for centuries accreting the soft caramel to deep cocoa hues that signify this ancient material. Native peoples gather the fossilized ivory after it is exposed by the tides and erosion. It is prized the world over for its age-old story and unique earthen quality.
---
We Also Recommend