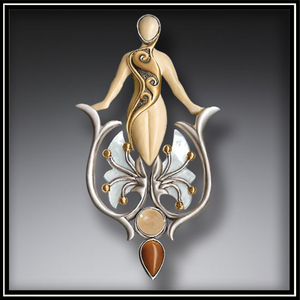 Emergence Fossilized Walrus Ivory Mother of Pearl Pendant and Pin
Width 1 1/4"" x Height 2 1/4"" (approx)
This silver mother of pearl pendant and fossilized ivory pin is a stunning statement piece that can be worn two ways, letting you personalize your jewelry to your taste.
Fossilized walrus ivory figure and lower accents
Mother of pearl flower petals
Rich 14kt gold fill highlights
Sterling silver details and setting
Pin and pendant back—wear it both ways
Designer: Jenny Byrne
Color Variation
Colors will vary as each beautiful piece of ancient ivory is uniquely tinted by earthen minerals. 
Emergence Carved Ivory and Fossilized Walrus Ivory Pin/Pendant
One of our jewelry's hallmarks is that it tells a story or evokes a mood, often in communion with nature. Our narrative pieces are created to become very personal for the men and women who wear them, signifying a time, animal, or symbol of meaning for the owner. Our Emergence silver mother of pearl pendant/pin is just such a piece.
A rising figure carved from fossilized walrus ivory takes center stage in this inspiring piece that speaks of strength, transcendence, and a profound connection to the natural world. The figure rises from a floral motif designed in luminous mother of pearl and a rich 14k gold fill and sterling silver mixed metal treatment. The figure is robed in gold—a gorgeous 14kt gold fill garment that hints at the woman she has become.
The figure, lower teardrop accent, and circular accent in this carved ivory pendant are all made from fossilized walrus ivory, which is 500-3,000 years old. Fossilized walrus ivory lies underground for centuries where it is colored a range of earthen tones from pale caramel to deep umber. The color variegation and quality make it a very desirable material in fossilized ivory jewelry and in other artisan's works.
Emergence offers both a pin and a pendant back, enabling you to wear it either as a fossilized ivory pin with your outfit or on a chain as a necklace.
---
We Also Recommend